Monday, December 2, 2013 at 1:04PM
Here is what to expect in your CSA this week
Tomato Sauce from Joe's Kitchen (that's us of course)
*Pizzazz from Red Hen Baking Company
*Marinated Feta from Willow Moon Farm
*Eggs
Fresh Spinach from Screamin' Ridge Farm
Garlic from Screamin' Ridge Farm
Onions from Blackwell Roots Farm
Potatoes from Blackwell Roots Farm
Frozen Roast Sweet Peppers from Screamin' Ridge Farm
Beets from Kingsbury Market Garden (or possibly from Blackwell Roots Farm)
Carrots from Kingsbury Market Garden
*Substitutions
No Pizzazz: Ground Beef (1 lb) from Gaylord Farm or tofu (2 packages) from Vermont Soy
No Feta: Frozen broccoli or fresh spinach, both from Screamin' Ridge Farm
No Eggs: Roast tomatoes in olive oil or frozen spinach, both from Joe's Kitchen
Preparation Suggestions
Pizza (of course)
The Pizzazz shells from Red Hen Baking Co. do not have any preservatives. So if you don't use them for a few days they will last longer if you keep them refrigerated!
Here are the instructions for baking Pizzaz pizza from Red Hen Baking Company (I think this is on the label as well): For best results, pre-heat oven to 400, add your favorite toppings and bake for 5-8 min or until the cheese is melted. Then finish with a few minutes under the broiler—just enough to brown the cheese. Do NOT use a pizza stone because the Pizzaz has already been baked on a hearth and further hearth-baking will make it too crispy.
You're really just trying to heat the toppings when you make pizza with Pizzaz, so minimizing heating from the bottom will produce better results.
Here are a few ideas for pizza that you can make with your CSA share contents:
Thinly sliced onions, tomato sauce, spinach, and crumbled feta
Tomato sauce, roast peppers, spinach, crumbled feta
Same as above, but without the tomato sauce
(Note that if you want just a light spinach flavor on your pizzaz, you can add a few spinach leaves under the other toppings. If you want a really spinach-y pizza, you can avoid making it too soggy by sauteeing the spinach and letting it drain in a colander for a few minutes before using it to dress your pizza.
Tomato Sauce
We were busy last summer! One of the many ways we saved the harvest from the summer was by making tomato sauce from plum tomatoes plus our excess slicing tomatoes. This sauce contains only tomatoes, salt, and pepper! It boiled for a long time in the big 40 gallon steam kettle at the Mad River Food Hub. Here is a goofy picture of me stirring the sauce with a spatula that is more like a small boat oar than an ordinary home-kitchen spatula.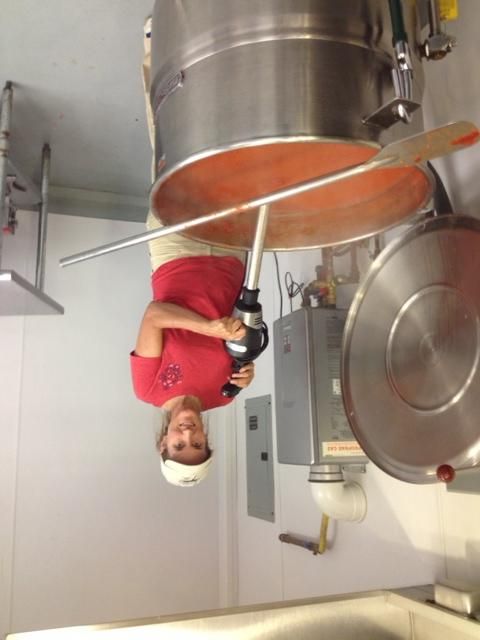 Note that if you love this sauce, CSA members can purchase it in our web store.
Baked Potatoes
Your CSA share includes some great, classic, Russet potatoes. How long has it been since you've had a simple baked potato, loaded with all kinds of toppings?
To make them, lightly scrub the potatoes, and rub with a sheen of olive oil. Leave the skin on and bake at 350 for about 30 min or until they feel quite soft when you pierce with a fork. After baking, split them open and load with caramelized onions, feta, roasted sweet peppers, sour cream, cheddar cheese.
For something pretty different, try a potato-onion-egg nest. When the potato is thoroughly baked, cut an X in the top and use a spoon to make a well in the cooked potato. Break an egg into the well and let it bake for another 5 minutes or so, or until the egg is cooked to your preferred hardness. Pull from the oven and smother with sauteed onions. Add cheese and/or sour cream. Here is a link to a more involved recipe if you like this idea.
Either way, serve with a small spinach salad for a great meal!
Roast Sweet Peppers
These are from last summer at our farm. At the height of the harvest in mid to late August, we brought the sweet peppers to the Mad River Food Hub to reserve them. We washed them, then diced, added a bit of olive oil, and oven-roasted them. When they were cooled, we scooped them into bags and pulled the air out with a vacuum sealer, laid them flat on sheets and froze them quickly.
They are great added to pasta, egg dishes, sprinkled into a salad and of course on your pizza. One CSA member last winter suggested keeping them frozen in a zip loc bag. To use them, pull them out of the freezer and use a serrated knife to cut off the amount you want and put the rest back into the freezer.
Beet Salad
Roast or boil the beets until tender, then peel the skin and slice or dice the beets. Dress with vinaigrette, finely chopped shallot or onion, and refrigerate. Serve as is or with a little crumbled feta (which will turn a beautiful magenta).
Carrot Salad
This is a great quick salad that will last all week in the fridge.
Peel and grate the carrots. Add toasted chopped nuts, dried cranberries (or raisins, currants, or cherries). Dress with vinaigrette, salt, and pepper or make a quick dressing with vegetable oil, apple cider vinegar, salt, pepper and a little bit of honey.
Next share on Dec 19
The next share will have all of you making enchiladas or tacos using our refried beans, enchilada sauce and some other goodies from our farm and others. Have a good week.
in
Winter CSA 2013-14
|
tagged
Roast sweet peppers,
Tomato Sauce,
baked potato,
beet salad,
carrot salad,
pizza,
pizzaz
|
Permalink