Monday, July 21, 2014 at 1:07PM
Hey everybody!
We have the finalized list for your CSA boxes this week. I also thought I would send out a couple ideas for meals to make from this weeks' CSA share—they're included below.
Please also remember to use your credits! They can be seen once you log in to your Farmigo account and go to the store. Until noon on the Monday before your delivery, you can add as many extra things into your box as you want. Let me know if you have any questions or problems adding items, it's easy for me to fix things from my end of things.
All Shares (Vegetables Only and Full Shares)
Kale from Screamin' Ridge Farm
Cucumbers from Screamin' Ridge Farm
Summer Squash from Screamin' Ridge Farm
Garlic from Screamin' Ridge Farm
Sweet Peppers from Screamin' Ridge Farm
Spinach from Screamin' Ridge Farm
New Potatoes from Bear Roots Farm
Carrots from Bear Roots Farm
Napa Cabbage from Screamin' Ridge Farm
Tomatoes from Screamin' Ridge Farm
Full Shares Only:
Pesto from Joe's Kitchen at Screamin' Ridge Farm
Bread from Red Hen Baking Company
Eggs
Dinner Ideas
If you have any questions about making things according to your dietary restrictions, or even just how to go about any of the details, please give me a call or send an email! I am more than happy to help, and our family definitely has gotten good at getting around different food allergies.
Farmhand's Potato Salad
The first step with this recipe is the same as with all potato salad—put some potatoes in water, and boil them until they're soft enough that they will fall off a fork once you stab it into them. We like the skin of potatoes—it adds a little texture, and a lot of nutrients. If you don't like the skin, though, it's definitely easier to peel them once they're boiled (pour cold water over them once they're in a strainer—this will cool them off enough for you to touch).
While the potatoes are boiling, chop up some peppers, tomatoes, and garlic. We prefer potato salad that isn't creamy, but if you like it creamy, just add some sour cream or mayonnaise in addition to the sauce we make.
-Approximately 1 clove of garlic, chopped
-2 Tablespoons or so of olive oil
-1 Tablespoon of balsamic vinegar
-1 Tablespoon of Dijon mustard
And, of course; salt & pepper to taste. Once the potatoes are boiled, cut them into fourths (or smaller, depending upon your preference). Mix them together with the other vegetables you're adding, and the sauce that you made. We suggest putting it in the fridge for a couple of hours before you eat it—it lets the flavors soak in. If you have some thyme or oregano, that would also taste really yummy in here! Also, if you like garlic (and basil), adding some pesto would taste pretty delicious too.
Summer Squash "Lasagna"
To start this one, put some olive oil (maybe a tablespoon), into a saucepan and begin to heat it up, adding the garlic as soon as you chop it up. Next, slice up you summer squash into rounds about ¼ of an inch thick.
Place down a solid layer of squash (slightly overlap the rounds in a spiral going towards the center of your pan—it's better to let them overlap slightly more, especially as you get towards the middle).
Once you have finished the first layer of the squash, put down a thin (or thick) layer of pesto—or tomato sauce—and sprinkle some fresh goat cheese down. Then add a thin layer of sliced up tomato over it all, and cover it with a second layer of squash. Add another thin layer of pesto (or tomato sauce) and goat cheese. If you have more vegetables left over, add them on the top! Or cover it with some breadcrumbs.
Put the pan in the oven at 350 degrees, and cook for about a half an hour, or until everything is bubbling and looks cooked.
*sidenote: if you don't want/don't eat cheese, this recipe would taste just as good without any! The vegetables have all of the flavor anyways. (:
Kale and Carrot Salad
Begin by slicing up the kale into thin ribbons, and the carrots into little circles. Put some olive oil in a pan, and about a clove of garlic. Once the oil is hot, put all the vegetables in at once (if you want to add some tomatoes or peppers, they'd taste good in there too). Add a little salt and pepper to taste, and turn the stove off once the vegetables are a consistency you like.
This would taste good on rice, toast, or just by itself. Enjoy!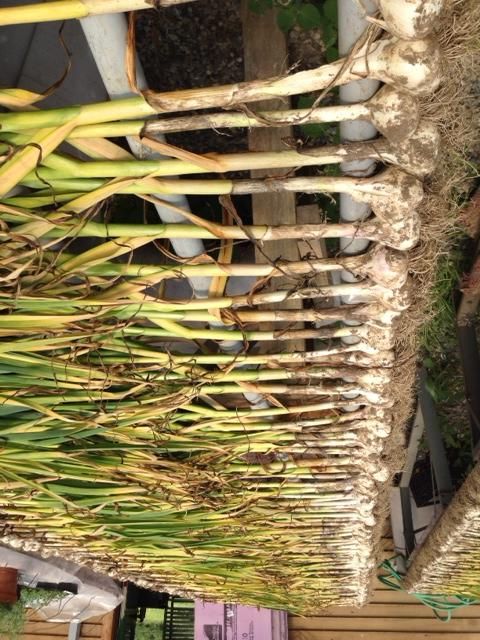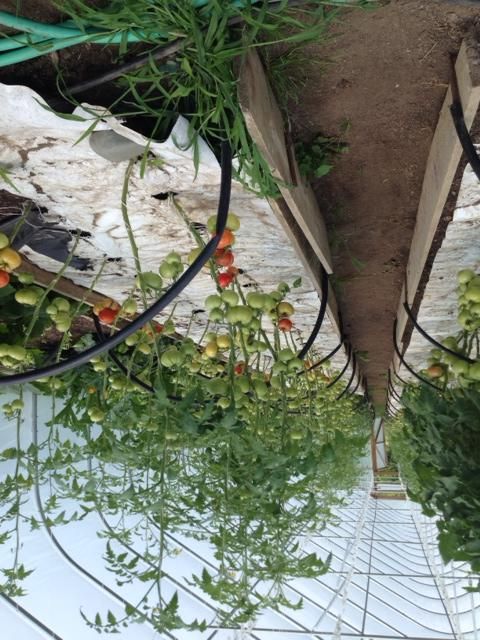 I hope that these recipes are helpful! Please keep in touch—we appreciate any comments or questions. I hope everyone has a great week!
in
Farm,
Summer CSA 2014
|
tagged
Summer CSA,
carrot salad,
carrots,
garlic,
kale,
summer squash,
tomato,
zucchini
|
Permalink