Friday, August 21, 2015 at 2:57PM
Well, August is almost over, and we have many new developments to share! First of all, our new customers at the Waterman Café on UVM Campus have loved our soup—so much so that the University Marché is going to start carrying our soups, as well!! This means that we'll be in not one, but TWO of UVM's campus dining areas. The Waterman Café is already open, and the University Marche will be opening this Tuesday (the 25th)!
We're excited that our soups will be available to all of the wonderful students at UVM. We'll also be contributing to the Real Food Challenge—a mission that aligns with ours. The Real Food Challenge is pushing colleges across the country to reach 20% "real" food (defined as locally/community based, ecologically sustainable, and humanely produced) by 2020. One of our company's biggest values is to support the local economy, as well as contribute to local food systems in a positive way. Bringing our locally made (and locally sourced) soups to UVM campus is certainly making a positive impact on the University's food system!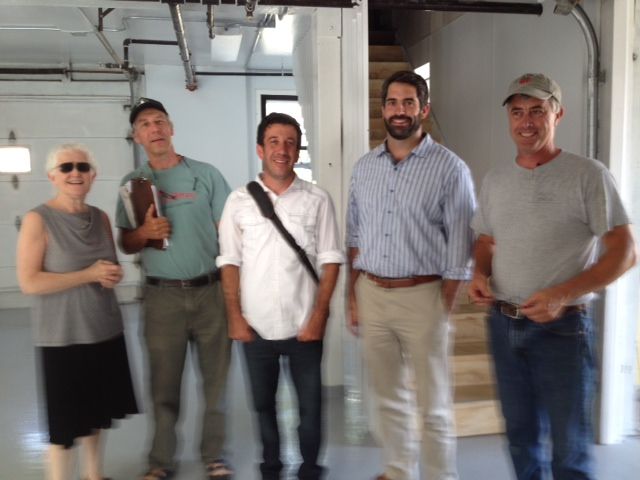 In other news, the new facility is looking awesome! We were happy to be able to host a small get-together this week for the Working Lands Enterprise Fund (the organization that made this dream-come-true possible) this past Tuesday—it was great to show the people who made this project possible how good it looks! In terms of equipment, we've gotten the hood vent, sinks, fridge, and freezer installed, and we've finished coating the floors and installing the floor drains. One of the steam kettles has been installed already, and the other one will be moved in soon. It's going to be really exciting to be the first people working in the facility.
Though it's hard to believe that the summer is almost over, we've never been more excited for soup season to start. We're so grateful to the Vermont Working Lands Enterprise Initiative for believing in our vision and helping us achieve it.
We'll be sure to keep everyone updated on what's happening around here over the next few weeks.
As always, stay in touch!
Joe & Olivia