Thursday, July 14, 2016 at 10:15AM
Hi Everyone!
Wow, the summer is flying by. Between things on the farm and in the kitchen, we've been keeping ourselves very busy. Things on the farm are going really well-it's been kind of a dry year, but our tomatoes are JUST barely starting to ripen, along with our peppers (sweet bell and chili). Tomatillos, zucchini, and broccoli are all growing quickly out in the fields, as well. It's looking like we're going to (finally) be able to produce enough tomatoes and broccoli that we don't have to buy them in all winter long. We're keeping our fingers crossed that everything continues to go well!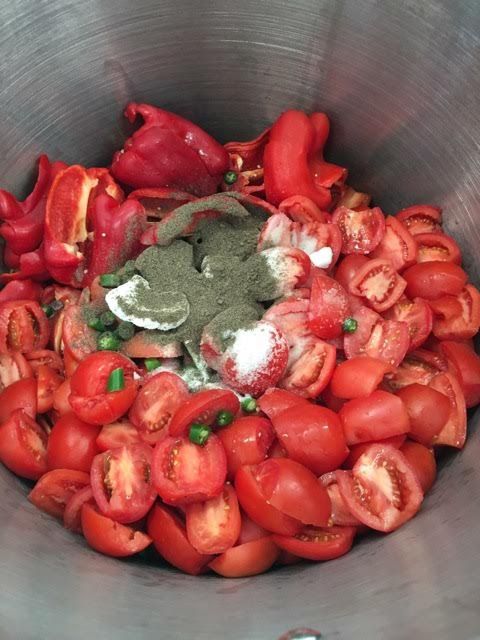 (Gazpacho)
In other news, we're excited to say that we'll be attending the 2016 VT Cheesemakers Festival this Sunday, July 17th. The Festival takes place from 10-4, at the Coach Barn, in Shelburne Farms.
The Cheese Fest is a celebration of VT artisan foods, cheese, beer, wine, and spirits. It's a big event—over 40 different cheesemakers, along with 80 other producers from the state, will be tabling at the event. It should be a really fun day, with lots of delicious, unique foods and beverages to sample and purchase from local producers.
Along with TONS of different producers to meet and sample from, there will be cheesemaking and cooking demos happening throughout the day, as well. Tickets are available online at Eventbrite.com (scroll to the bottom, and click the link for "Tickets". We're going to be bringing two chilled summer soups: Gazpacho, and Cucumber Dill. We'll also be bringing our most popular sauces: Maple Chipotle BBQ, Chimichurri, Chermoulah, and Basil Pesto. We hope to see you all there!!
Have a wonderful week,
Olivia & Joe
in
Farm,
Soup
|
tagged
Pesto,
cheese,
chermoulah,
chimichurri,
local soup,
localvore soup,
nitrate free soup,
savorvore soup,
vegetarian soup
|
Permalink