Tuesday, August 13, 2013 at 8:05PM
Well it's the tomato time of year. We are working hard to preserve the harvest, Joe and I processed about 700 lbs of tomatoes last Saturday. We roasted tray after tray of plum tomatoes in the oven. We'll pack them in olive oil with herbs, and freeze most of them to use this winter. We also made almost 60 gallons of Tomato Sauce—some of which you'll get in your CSA boxes this week!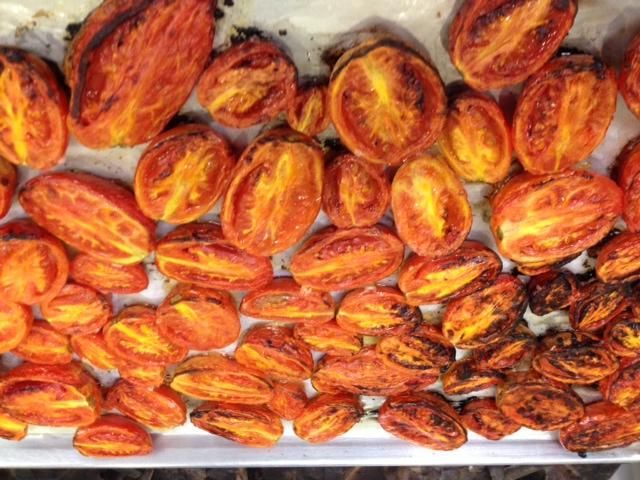 Here is the week 11 CSA chare:
Pizazz from Red Hen Baking Company
Tomato Sauce from Screamin' Ridge Farm
Eggs
Arugala from Screamin' Ridge Farm
Basil from Screamin' Ridge Farm
Green Beans from Screamin' Ridge Farm
Sweet Pepper from Screamin' Ridge Farm
Tomatoes from Screamin' Ridge Farm
Garlic from Screamin' Ridge Farm
Onion from Kingsbury Market Garden
Kale from Littlewood Farm
Substitutions
Pizzaz subs: Maple Vinaigrette, Eggplant (Rosa Bianca), or Tofu
Eggs subs: Broccoli, Terryaki Tempeh or Pesto
Cooking Suggestions
Pizza
It's pizzaz night! Here are the general baking instructions for Pizzaz: Pre-heat oven to 400, add your favorite toppings and bake for 5-8 minutes or until the cheese is melted. Then finish with a few minutes on the broiler– just enough to brown the cheese. It's actually best not to use a pizza stone because it will make the crust too crispy. You're really just trying to heat the toppings when you make pizza with pizzaz, so minimizing heating from the bottom will produce better results.
Check the Red Hen Baking Company Pizzaz page for topping ideas, and here are a few ideas that use items you can pull from your CSA box:
Try tomato sauce, thinly sliced onions, and cheese and bake. Then when the pizza has just one or two minutes left to cook add a little chopped arugula and finish baking. You could use chopped basil instead.
Thin slices of tomato on top of traditional sauce and mozzarrella is another delicious idea, put them on top of the cheese. This way they roast a bit and do not get the pizza all soggy.
Basil
Basil won't last long in the fridge, a few days only. It really does not like any temp below 52 degrees. Pick the leaves off and puree them with about ¼ cup of olive oil, just enough to make your food processor or immersion blender chop the basil. You can keep the puree in the fridge for a few weeks or just freeze it in an ice cube tray. Store the frozen "basil cubes" in a ziplock bag in the freezer and thaw them as you need them.
Kale chip recipe
http://allrecipes.com/recipe/baked-kale-chips/
Mmmm. Love kale chips.
Cooking Green Beans and Broccoli
We suggest you steam the broccoli and then toss it with a bit of butter, salt, pepper. Right at the end add touch of rice wine vinegar, maybe a ½ teaspoon. Do the same with the green beans as well.
Getting Ready for the Winter CSA
As we approach mid-August we are already planning the winter CSA. We have been sauteéing and freezing spinach, broccoli, swiss chard, and bell peppers for this winter. We will also have lots of hearty soups and sauces to make winter meals easy, and extra tasty this winter. We hope you will consider giving us a try this winter if you have not already been a past member.
in
Summer CSA 2013
|
tagged
Green Beans,
basil puree,
broccoli,
pizza,
pizzaz
|
Permalink