Saturday, August 1, 2015 at 10:25AM
Hi Everyone!
We've recently released a new (to most) line of different sauces and spreads that we make. Most of them are pretty well known sauces, but a few of them we thought you guys might appreciate some ideas for. So we thought we should post a few recipes! We'll also try to keep everyone posted on any new recipes/dinner ideas that we get for ALL of our products.
Soffrito-Grilled Veggies
Ingredients:
Zucchini
Onion
Tofu (or Chicken, for meat-eaters)
Eggplant
Soffrito
Any other vegetables that you have, and like to grill!
This one is super easy, but really tasty. For the veggies, just throw them on the grill (sliced), and for the protein, I would recommend letting it marinate in the Soffrito a bit before putting it on the grill.
Once one side is browned, flip everything over and spread a bit of Soffrito over the top to let the other side cook. A good tip to not get Soffrito all over you grill is to place the veggies on a bit of tin foil. Once they're cooked—voila! A delicious, and healthy, dinner.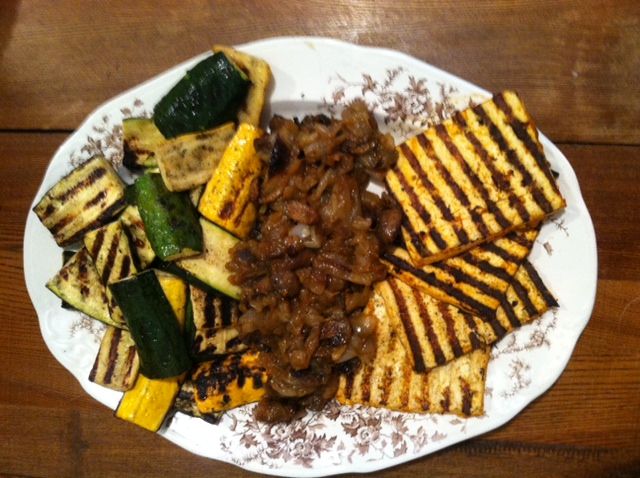 Soffrito Tofu or Chicken
Ingredients:
Tofu (or Chicken, if you're a meat eater)
Cumin
Salt (or Tamari)
Soffrito
Olive oil
Vegetables (if you feel like putting some in there—maybe onions, peppers, and tomatoes—but it's also tasty by itself)
If you're going to be making chicken, ignore the cumin and salt—tofu is just so bland by itself that we like to give it a bit of a base flavor. Take the tofu out of the container, and slice it in half width-wise. Lay it in a shallow dish, and pour some tamari (or sprinkle salt) over it, and add a little cumin. Let it sit for 15-20** minutes, and then pour some olive oil into a pan and add your protein! Once it's about halfway cooked, add in some Soffrito—however much you like.
**Note: If you don't have the time to let the tofu soak, just crumble it up in your pan, and season it while it cooks. We call this scrambled tofu!
Tomatillo Verde Sauce Broiled Fish Filet
Ingredients:
Fish—Joe recommends Cod, Salmon, Tuna, or really any fish
Verde Sauce
Set your oven to "broil" and slice your fish into several large chunks. Set your fish in a pan, and put it into the oven for about 10 minutes. Because an oven set to "broil" is so hot, it shouldn't take very long at all for your fish to cook. Once it's almost done, take the pan out of the oven and pour Tomatillo Verde sauce onto it. Throw the pan back into the oven for about 2 more minutes, and then pull it out. We generally will eat this with just a simple salad on the side. It's super fast, and tastes delicious!
Creamy Tomatillo Verde Sauce
Tomatillo Verde Sauce
Goat Cheese (or, in a pinch, sour cream)
This one is super fast, and really easy. Sometimes we just like to add a little bit of fat to our sauces, and the Tomatillo Verde Sauce carries the goat cheese beautifully. Just heat up the sauce in a pot on the stove, and add a bit of goat cheese to it. While it heats, stir the mixture to allow it to combine. We'll eat this decadent sauce on practically anything—roasted veggies, sautéed veggies, grilled fish, pork, chicken, or really any other base.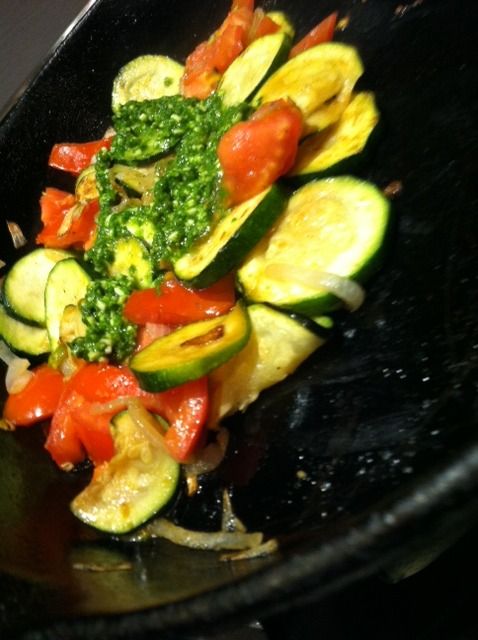 Pesto Veggies
Zucchini
Onion
Tomato
Pesto
Olive oil
Salt
One of our favorite dinners in the summertime is simply sautéed veggies, with a little bit of pesto. It's easy to make, tastes great, and is healthy! Begin by rinsing your vegetables, and slicing them into their desired size. Put the onions and olive oil into the pan first, and let them start to cook. About 5 minutes in, add the zucchini. Let them cook for another 10-15 minutes, stirring occasionally. Right before you remove your pan from the heat, add in a big spoonful of pesto, and the tomatoes. Stir the mixture a bit, then remove from the heat and serve. We often just eat this by itself, as a light dinner, but it also tastes delicious on top of rice, chicken, or Soffrito Tofu.
in
Farm,
Soup
|
tagged
Dinner,
Pesto,
broccoli,
dinner ideas,
fish,
grilled vegetables,
soffrito,
zucchini
|
Permalink